Building New? Enjoy An Intelligent & Comfortable HVAC System. 
Terra Cotta, Ontario. Canada.
Written by Orest Õh.
---
Chapter One.
A New Village, A New Opportunity.
A longtime  friend of mine calls me one winter asking me to come take a look at his bungalow that's under construction. It was the beginning of January, minus eighteen degrees outside, but the opportunity to drive out of the city and visit a place I've never been to was exciting. But where the hell is Terra Cotta??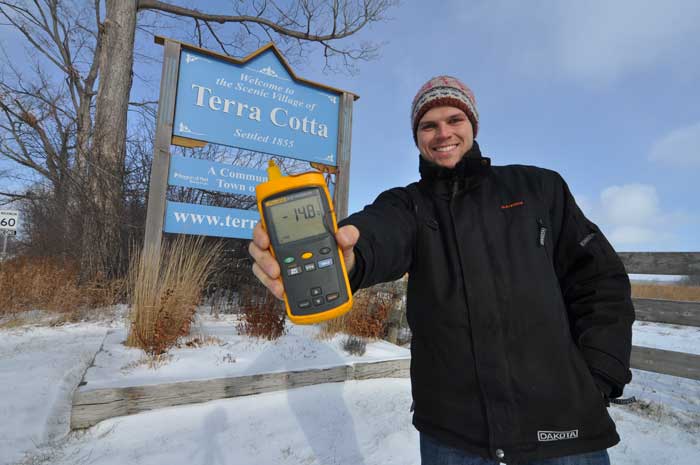 Terra Cotta is a community in Caledon Ontario where people go enjoy the calmer side of the Greater Toronto Area. With Caledon having a population of only 60,000 it's still peaceful but growing at rapid pace, it's a smart move to build a home here. Now ask yourself, why not install a comfortable, smart, and healthy HVAC system?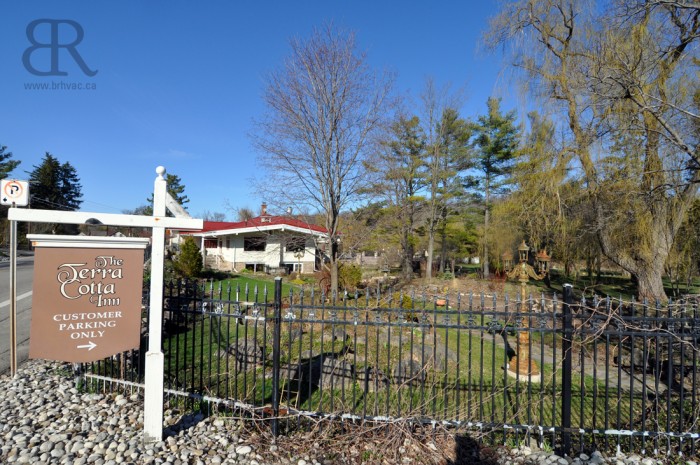 Here the early settlers could walk across the Credit River stepping on the backs of salmon, it was awesome. Now automotive enthusiasts can take advantage of these twisty roads, or stop at the The Terra Cotta Inn for a coffee. While chatting up a local dog walker, this cutie claims Snoop Dog throws an annual party here where anybody can join as long as you're in a tux. Can anybody verify this and send an invite my way please?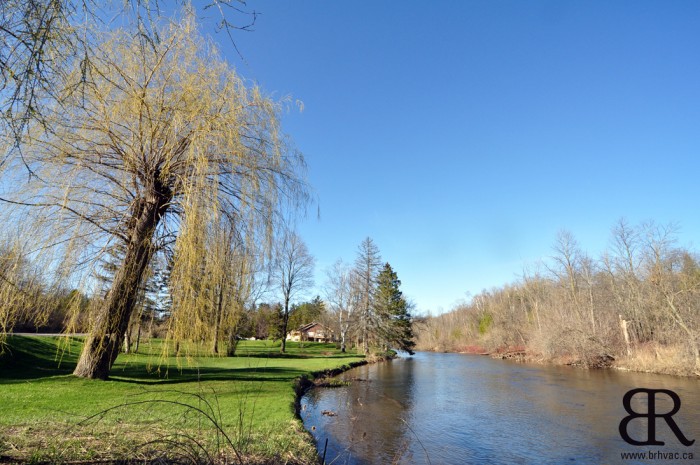 After going over the mechanical drawings and hearing what the owner's requirements are, we discussed timing and made sure we're a good fit. If we decide to work together, the HVAC should be comfortable and high quality. The builder want to live in this house, spend time in it, enjoy it, and entertain grandchildren here. All these things are taken into consideration, and it will be my team's responsibility to assemble quality mechanicals and leave our names on it. Plus his sons name is also Orest.. so we have to do a good job.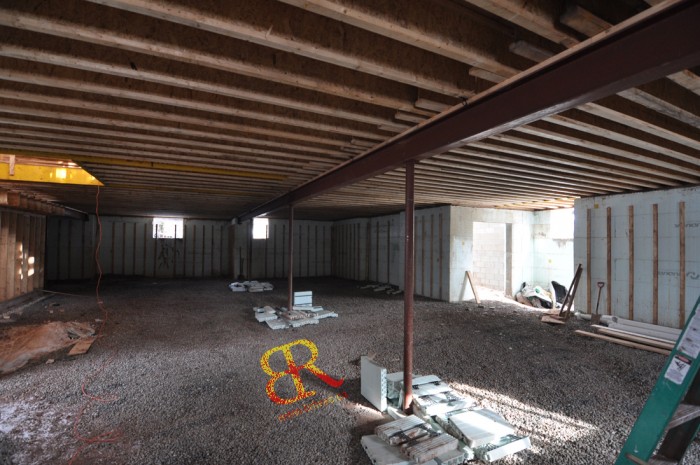 ---
Chapter Two.
Setting The Standard For Other Trades To Follow.
The heating equipment selection was a no brainer – the best from Goodman's line of residential products – so a modulating GMVM97 furnace was chosen and complimented with a DSX16 condenser. This duo will communicate with each other and work as a team to reach higher efficiency, truly standing behind our company values. An Energy Recovery Ventilator (ERV) from Lifebreath will have fresh air circulating into the structure and, and a central humidifier to keep things well…juicy for the winter days. This HVAC system will run quietly and comfortably for decades.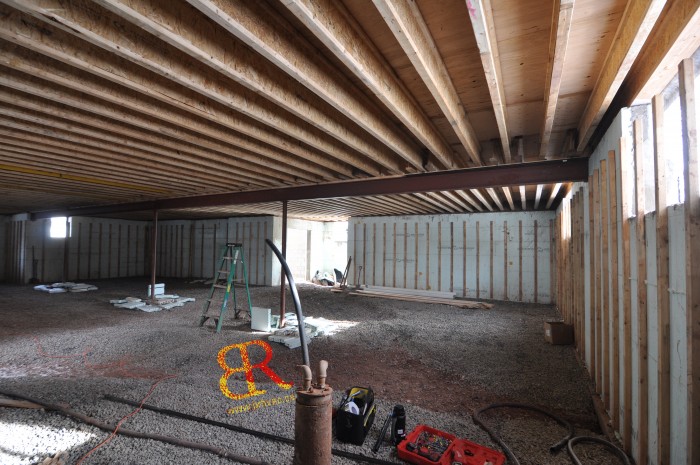 The first step was running the gas line into what will soon be the mechanical room. Rigid iron was chosen for its strength, price, and durability. We had a great spot near the beam to tuck it by so there was no reason to use flex.
Natural Gas Line.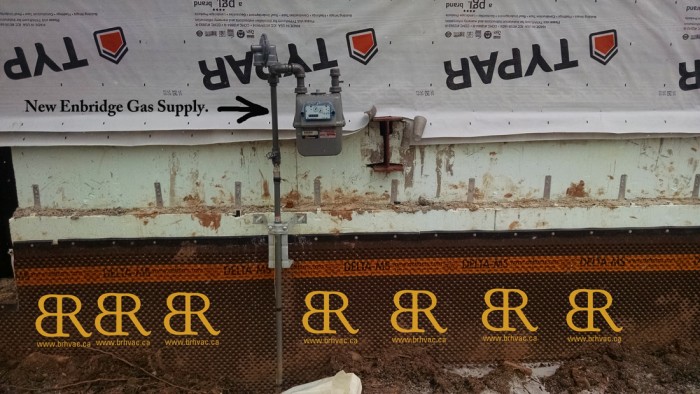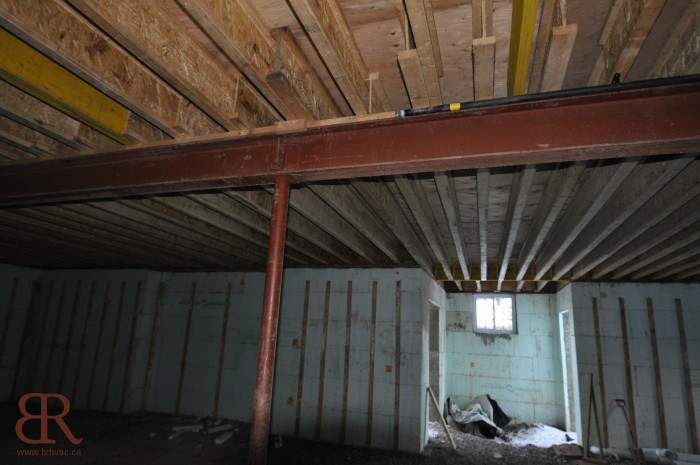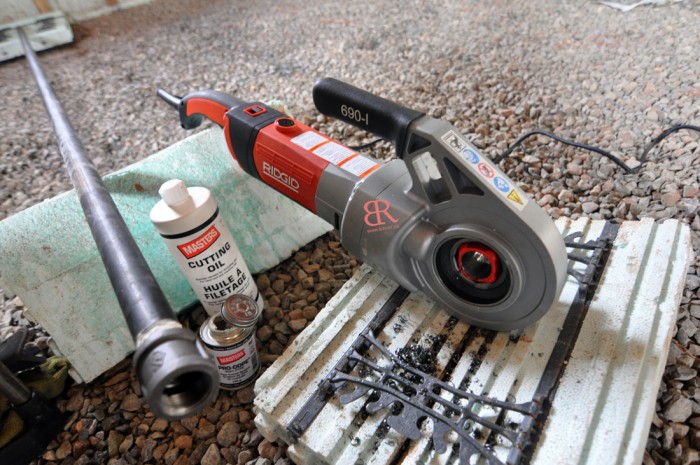 Blackrock HVAC buys Ridgid Tools out of Ohio, we own their 690i pipe threader and various aluminum pipe wrenches. Ridgid is not shy about their serious lifetime warranty policy. The 690i threader isn't as heavy and bulky as the more common ones used. This one is easy to work with, carry around (as demonstrated in the next two photos), and comes in a nice compact carrying case.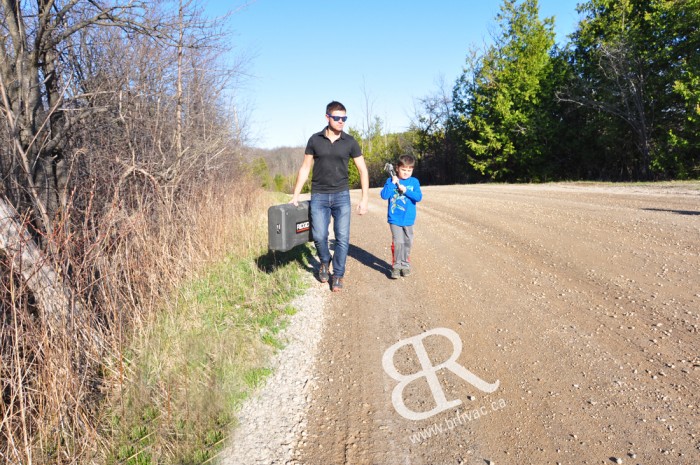 Ridgid makes the best quality pipe wrenches out there, that's probably the reason why my nephew wouldn't put the thing down. Not only does this promote tradesmanship to the youth but they make great holiday gifts for the whole family, (I dare you).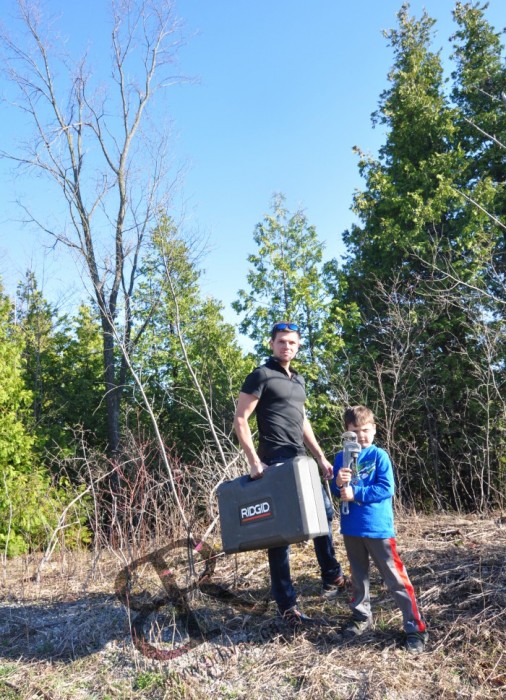 Furnace Placement. 
We arrived at 8am one morning to get started (coffee provided by Roman) and the Blackrock trademark gets carefully hauled in. This monstrous art did not get wasted at the granite shop, instead it was cut down to a 32 x 32″ piece. This 1 1/4″ pad weighs a ridiculous 130lbs but it's the first step in our equipment placement procedure. Carefully read on.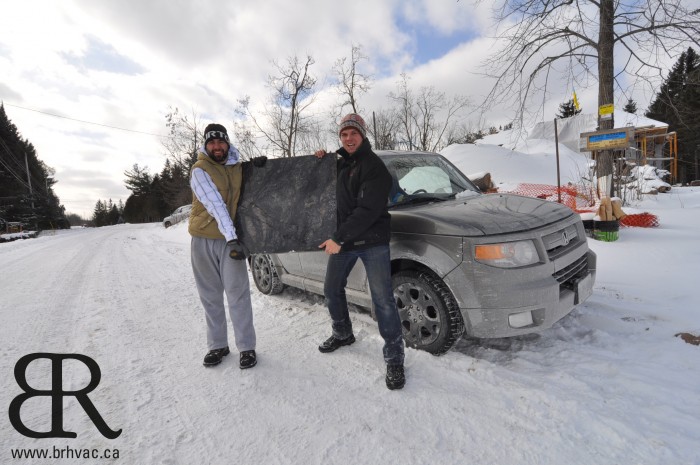 The galaxy themed stone was placed exactly where the furnace was going to sit, or rest rather. Le pedastal was leveled and raised for future concrete to be poured around her, giving the mechanical room a near seamless finish. Welcome to a Blackrock Custom Home Project .
On a side note: The subject of what you do at the beginning sets the pace for the rest of the job will be a recurring one in this article.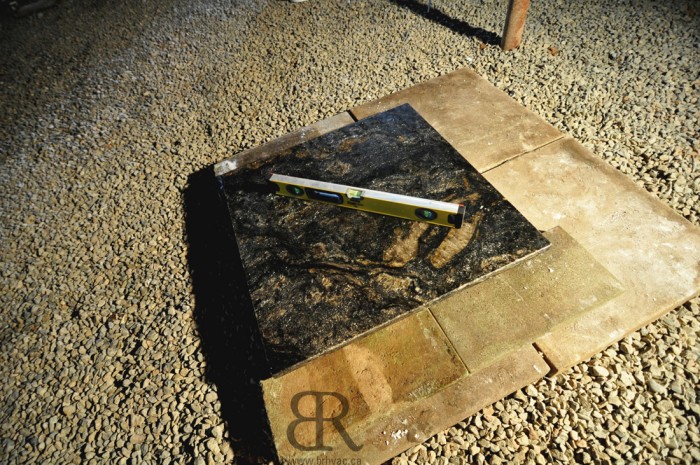 "If you leveled something but nobody was there to see it, is it really level?"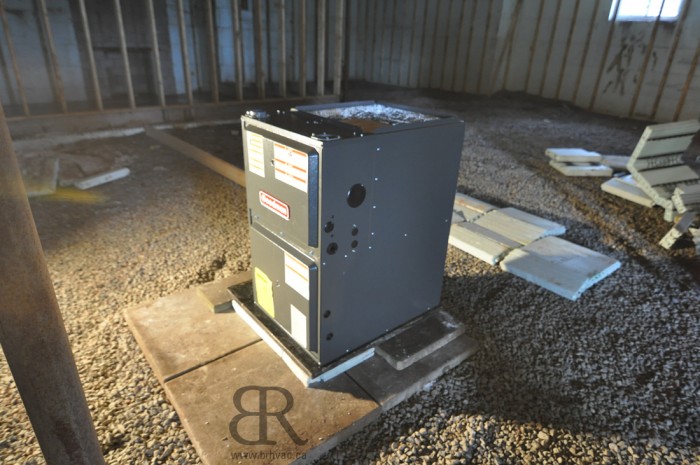 One Saturday afternoon when the jobsite was near empty we began working on the plenum assembly like yoga instructors, in a quiet and peaceful atmosphere providing pure focus. The plenum and plenum take off (PTO) assembly is crucial because it sets the quality standard for the rest of the ductwork.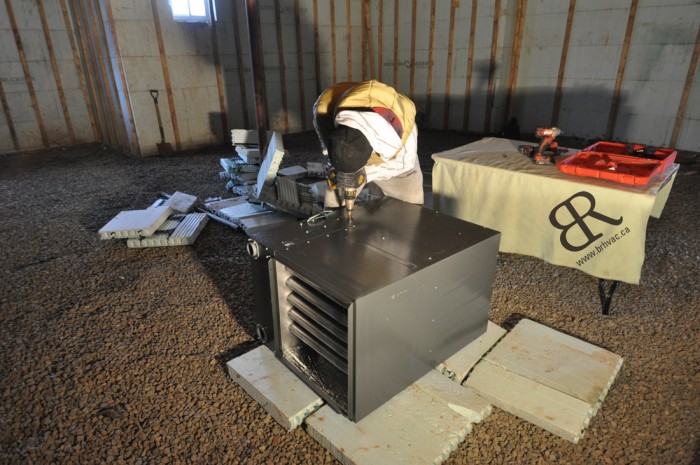 Sheet Metal Construction. 
This plenum took us three hours to assemble. It required lots of measuring and grinding using quality WALTER disc blades. Roman, our automotive engineering grad fits and fastens as if building a Le Mans race car (seriously), and we are truly thankful to have him on the team.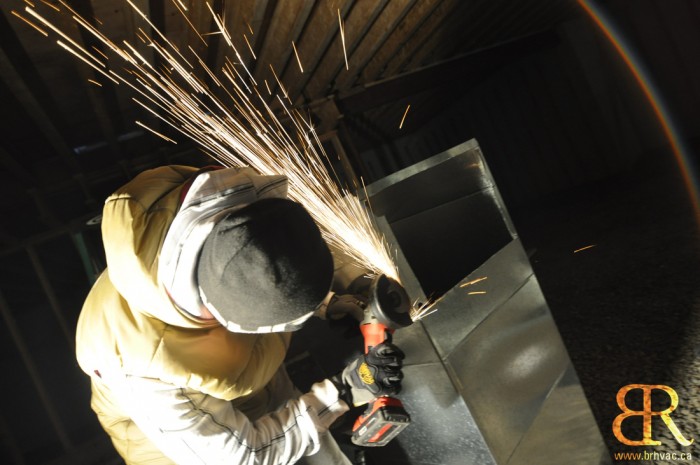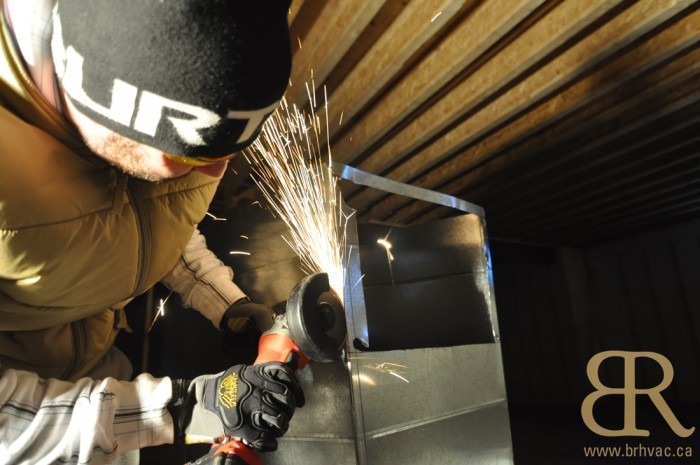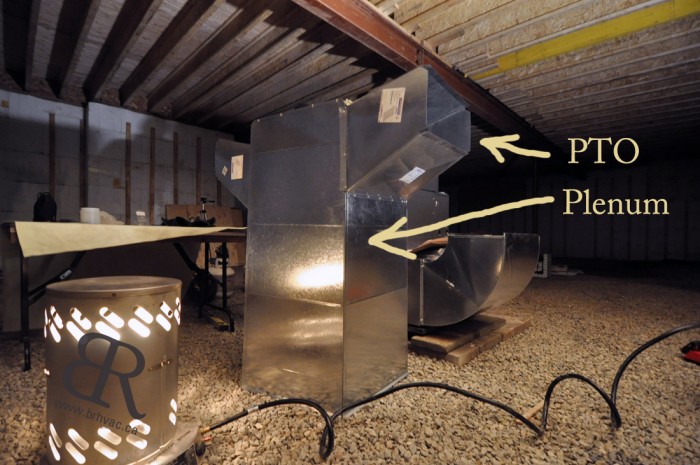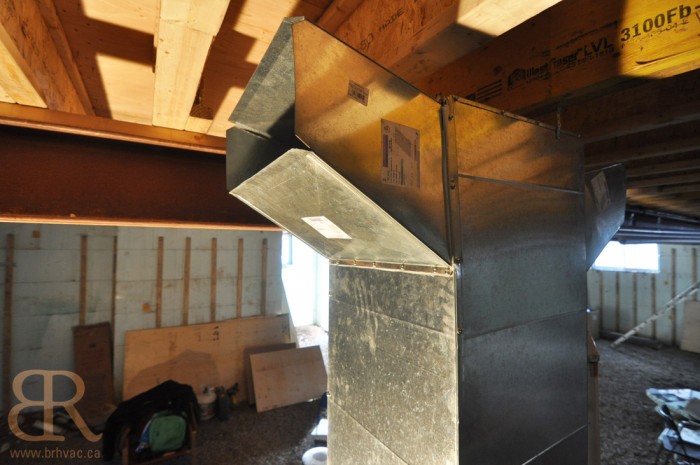 Atop the furnace sits a Goodman cased coil. They provide better airflow, have the same warranty and look really OEM. The price difference is small, but please, will somebody think of the airflow!! #saveairflownow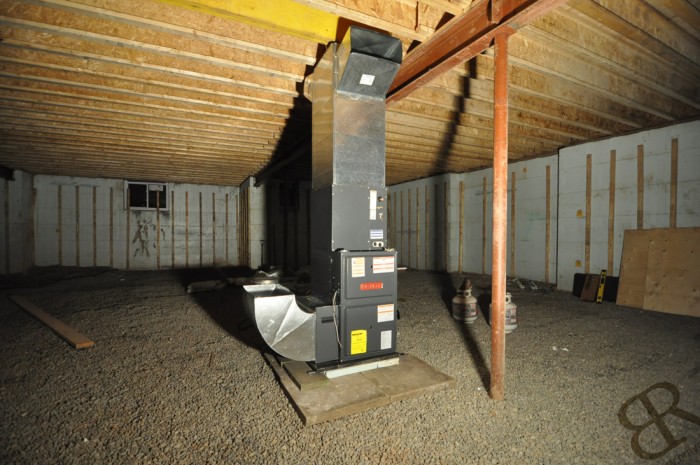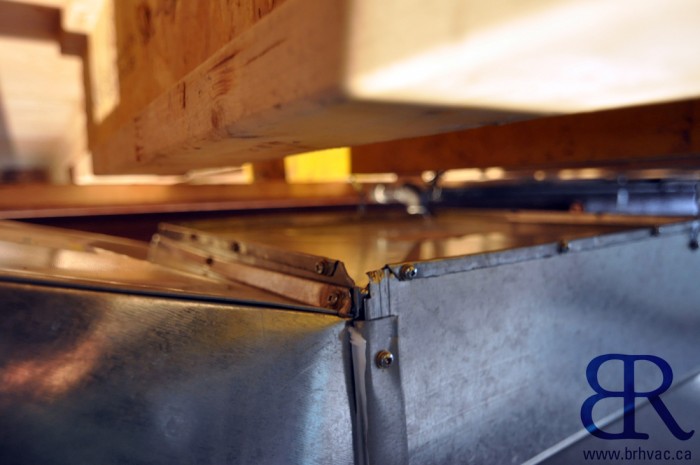 Two PTOs were attached with near perfect accuracy thanks to Roman's constant need to achieve a perfect fit. Gaps in our sheet metal work are not very big and not welcome by our engineers. Gap tolerances are very small in our crew, going way back to the Volkswagen and Honda days riding low. A bead of silicone on all the gaps makes them air tight. Got efficiency yet?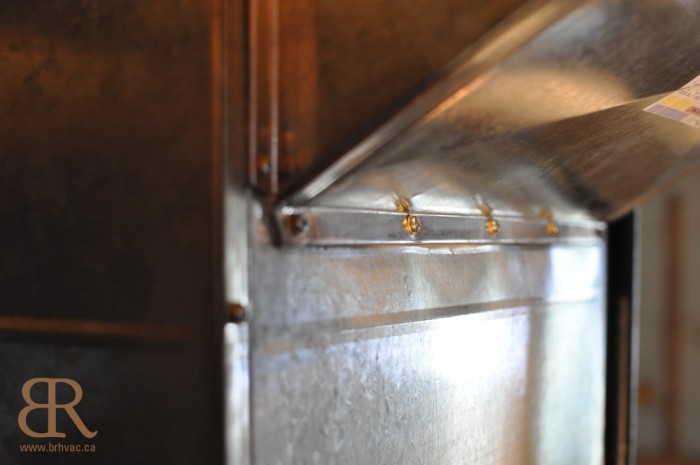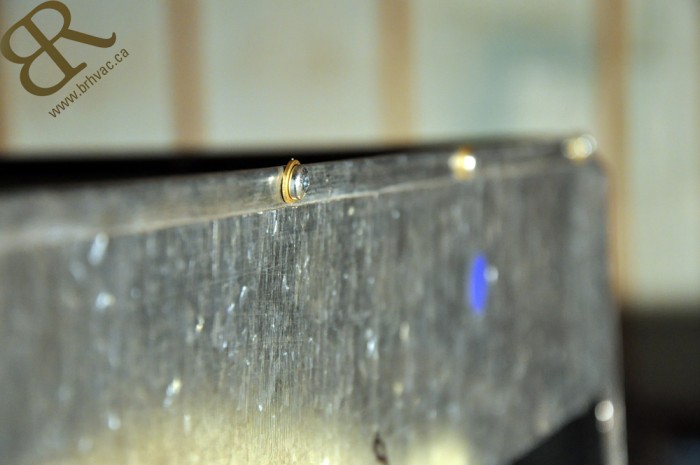 Screws with brass flat washers give us better strength distributed load, and Blackrock flare. Have any home reno magazines seen something like this?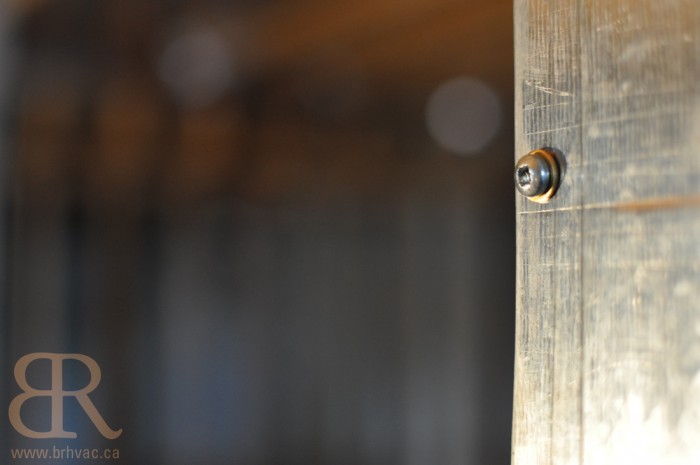 Air Filter. 
A 5″ filter frame was used so that the client doesn't have to replace the filter every three months. Instead, he can have it delivered from the guys at www.filterland.ca, all they do is filter subscriptions and mail one out to you when it's due, easy! A MERV11 cartridge comes standard on Blackrock installs (annual replacement cost $45). To further increase your indoor air quality with UV lights and Electronic Air Cleaners please us call (647) 388-5744.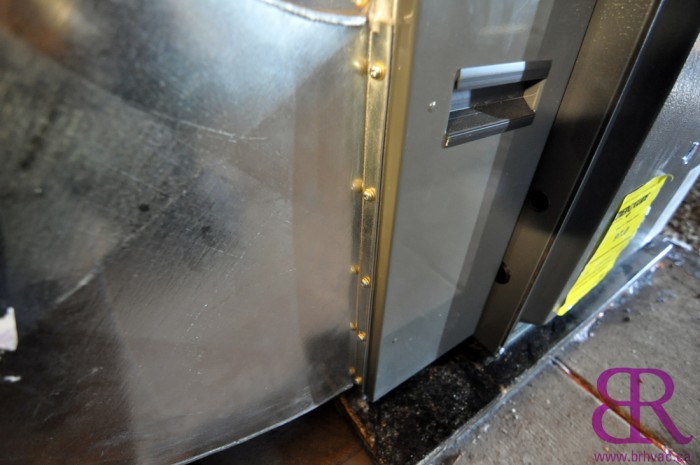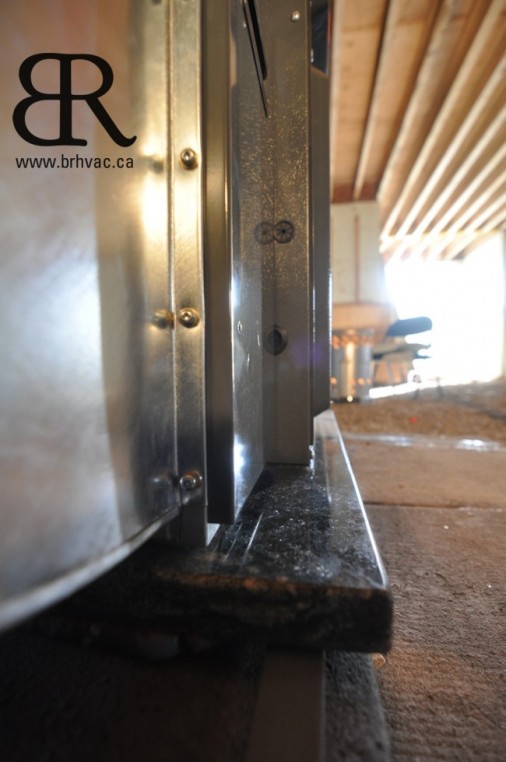 We're serious when it comes to sheet metal, but of course we're consistently continuing our education. Check out This YouTube Channel for DIY tips.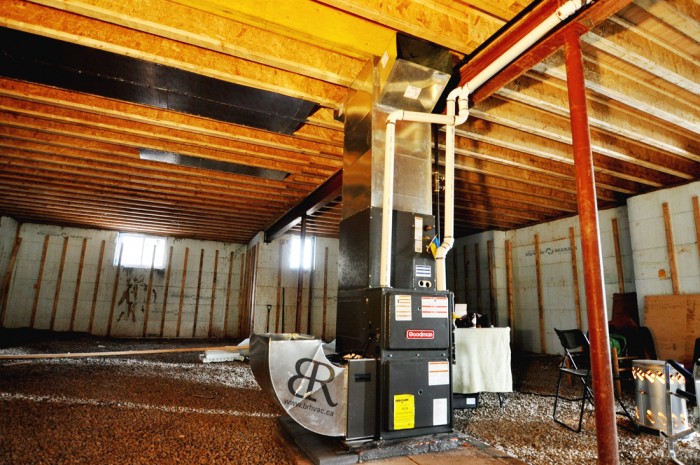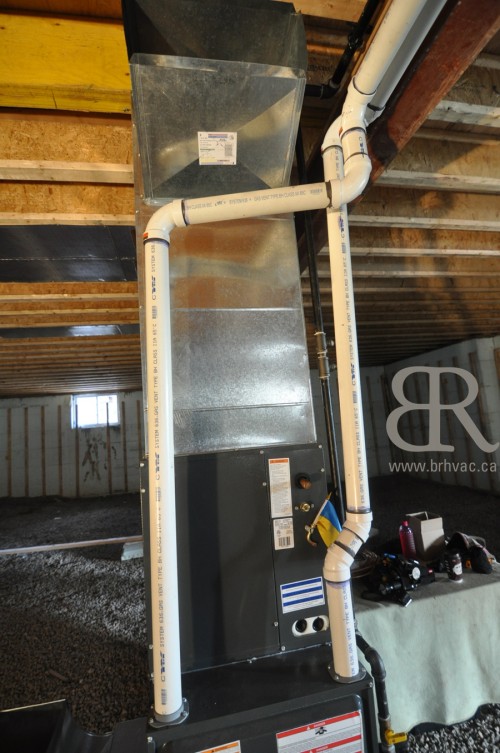 A builders' quality will be judged by their mechanical rooms.
If this sounds like you we're here to help you achieve a goal of higher purpose. How many times have you heard, " Nobody goes into the mechanical room anyways." People do go into your mechanical room, people enter every single room in your home. I recommend making sure your HVAC techs run their lines parallel like other trades do with their material. Just because they are in the basement does not give them an excuse to cut corners with the mindset of, " It's just a utility room". A great mechanical room will increase the value of your home.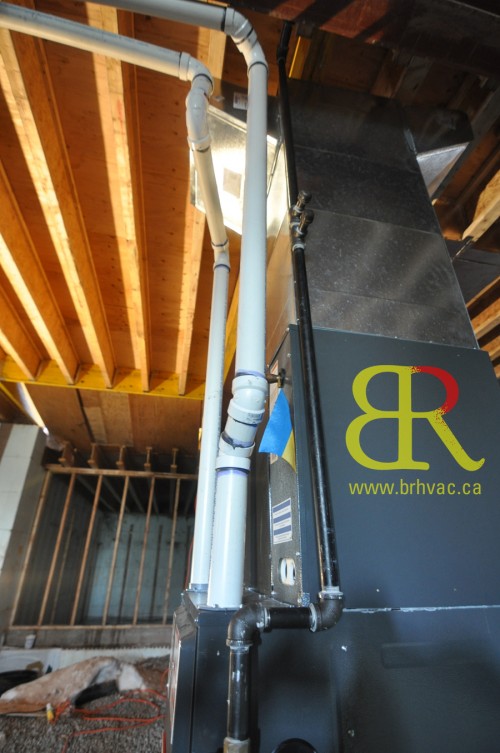 In our case here in Terra Cotta, the forced air HVAC system is right in the middle of the basement. The workers are already yelling, "Get the heat running already will ya!?". The lines are straight, granite is solid, and the work looks tight. Therefore it's not just a utility room, but a really important component inside your new dream home <3
"If there is time to paint a masterpiece we'll do it."
Coming up
Ductwork – AC compressor line sets – and the debate to go with an ERV or [email protected]!!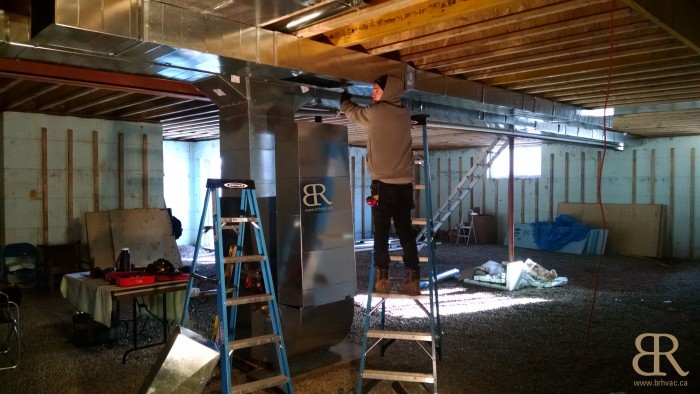 STAY TUNED!
How to install a Category 4 Residential Boiler!
NTI VMAX Plus – Made in Canada.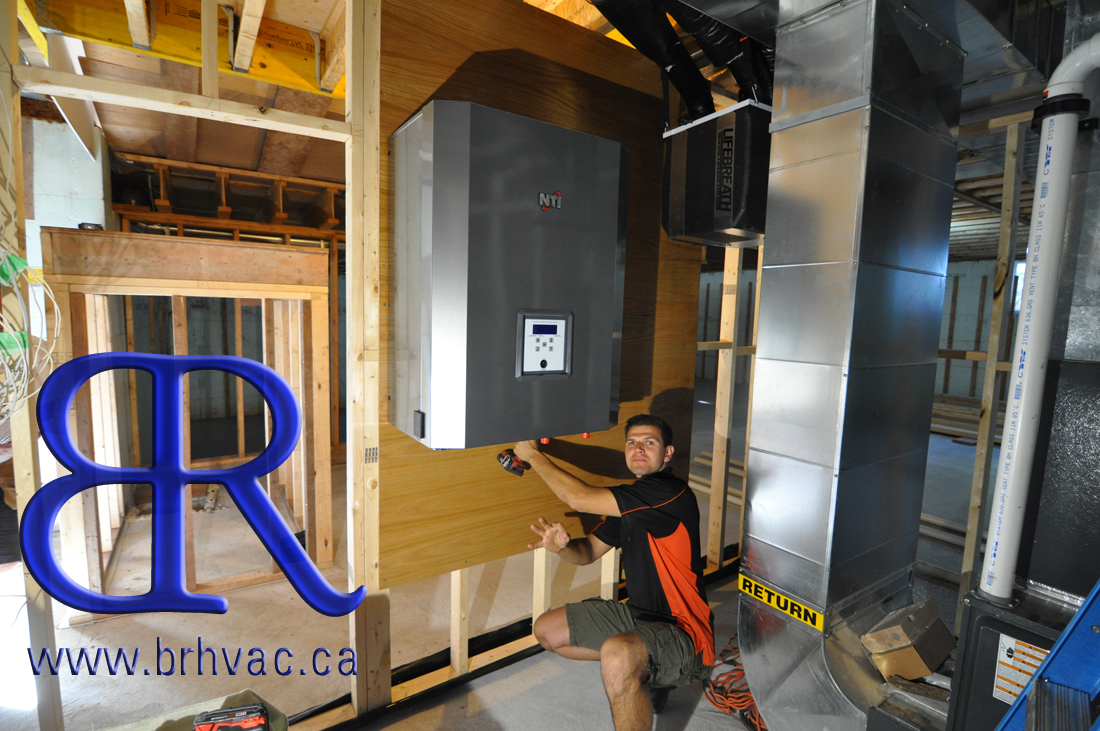 To Be Continued.
In the meantime, call our Senior Technician @ (647) 388-5744 to ask questions.
@BRHVAC